Sieve Bend Screen is made by stainless steel wedge wire and support rod. But it is in a curve shape not flat one.
Q: What's the structure?
A: V-shaped wire profiles and support rod made of sieve bend screen. The distance between wire profiles is called slot size (gap opening or screen precision). The wastewater flows through the slot but the solids intercepted on the surface of sieve bend screen.
Q: What's the slot size?
A: JX Filtration could make 0.02mm sieve bend screen.
Q: What's the wedge wire and support rod for options?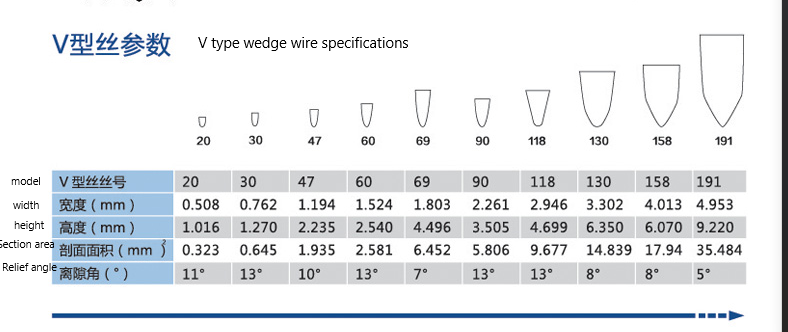 Q: What's the length and width for options?
A: The dimensions can be customized. The largest wedge wire panel we made is 2m arc length x 1.56m width.
Q: What's the construction material for options?
A: We have SS304, 304L, 321, 316L, 2205, 2207, 904L, Hastelloy, etc.
Q: What's the advantage of it?
Stable filtering effect: high-quality raw materials are selected during the production process to make it difficult to deform during use.
High filtration efficiency: The finest slot size can be 0.02mm.
High strength: best pressure resistance performance.
Simple cleaning: suitable for backwashing.
High temperature resistance: able to withstand high temperatures of about 480℃.
Corrosion resistance: The stainless steel has super high corrosion resistance and wear resistance.
Easy to process: can be cutting and welding or other process.
Q: What's the application?
It is the core element of DSM screen ( also called sieve bend filter) and Coanda screen. Mainly used in paper-making, sugar, food, beverage, mining, water treatment equipment industries.
Any requirements, contact us now!
Grace

Email:grace@filtrationchina.com

Mobile/Whatsapp/WeChat:+86 17269571160